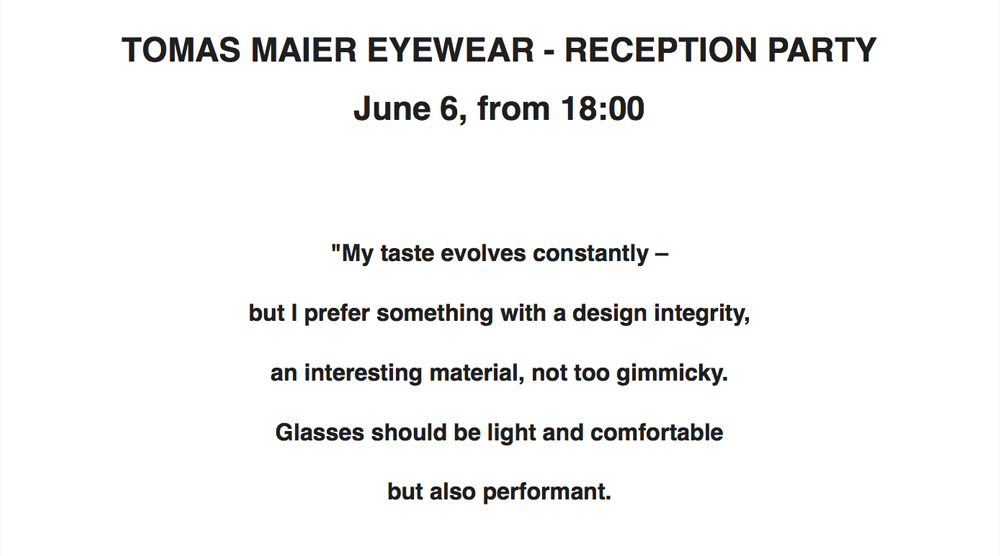 tomas maier /
トーマス・マイヤー
ラグジュアリーライフスタイルブランド<トーマス・マイヤー>のサングラスコレクションは、2016年春、日本初上陸を果たしています。トーマス・マイヤー氏はドイツ生まれで、パリクチュール協会付属モード学校の出身。名だたるメゾンブランドで活躍したのち、現在は「ボッテガ・ヴェネタ」のクリエイティブデザイナーを務めます。それらと並行し、1997年に自身の名を冠した<トーマス・マイヤー>を創立。
コンティニュエでは、トーマス氏自らも情熱を注ぐアイウェアコレクションに注目し、そのクリーンな世界観と、彼の物作りの姿勢に共感し、取扱いをオファーしました。アメリカ・イーストコーストの落ち着いた雰囲気を醸すアイウェアは、オフタイムを愉しむための魅力的なアイテムとして活躍してくれそうです。※現在はブランド休止中
※こちらでは店舗で取り扱っている商品の一部を掲載しております。お探しのモデルなどが掲載されていない場合などもCONTACTやお電話などでお問い合わせください。
The luxury lifestyle brand tomas maier's sunglass collection has just landed in spring 2016.Tomas Maier was born in Germany and studied at the Chambre Syndicale de la Haute Couture. He had worked at a lot of prominent brands, and now, he's working as creative director at Bottega Veneta.
In parallel with those projects, he established his own brand tomas maier in 1997.We have focused on his eyewear collection which are passionated from himself and sympathize with their clean concept and his enthusiastic attitude to work, thereby we offered to carry them collection in Continuer.The collection which produces relaxing atmosphere of east coast would be an attractive item for enjoying your time off.
We're carrying part of our stocks on this page. If you looked for any product which isn't find on our web, please feel free to contact us.
取り扱いのある店舗
Continuer

CONTINUER NIHOMBASHI

The PARKSIDE ROOM